Hey readers – got a new gig doing social and being a content milch cow so I haven't had a lot of time and energy for blogging, but I reckon you all want to know whats up? so I 'll  shed some light.  Got questions?  Comment!

I love my life right now.  yeah really
I'm a g i l e adaptive, smooth as ice and trying to be twice as nice as the last time I was up here doing legit shit in the large leagues where people notice     my ducks are lining up right now.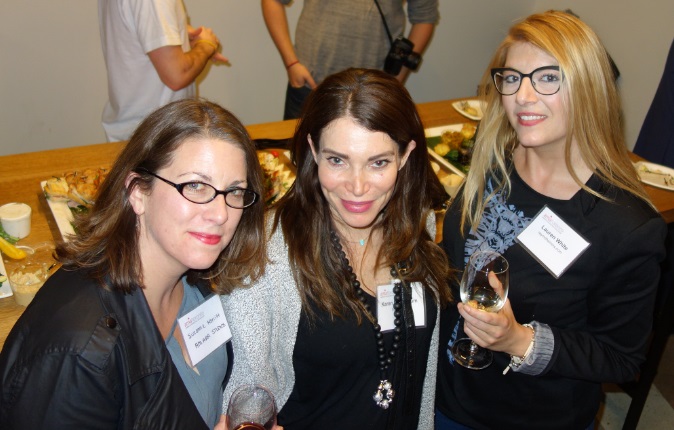 Last Tues 15 Nov 2016 I went across town with a coworker to Jackman Reinvents which is a cool ad agency I discovered that has a pretty nifty office space (behind the pink door) on Adelaide St just past Spadina.  They laid out a good spread and filled the room with smart people, four of whom gave a half hour talk, a panel discussion about how to leverage new technology for marketing.

The event was put on by the AMA Toronto chapter. There were a ton of bloggers and ad execs and academics like Andrew Ainsworth Humber photography classes ass dean alongside Hop Skip's Tania Stadnik, b2b marketing boss and current prez of the AMA Toronto.
Here she is again hugging the panel,

Yeah these are some smart people alright. Brown pants is moderator Mark Vecchiarelli of Vekya Inc, then Adam Green from Google, then Zahra Rajani the VP Digital Experience at Jackman and Kevin Keane from Brainsights, and Tania Stadnick of AMA Toronto. Betcha wondering what they talked about ? What we all listened to for thirty five minutes? In truth it was pretty theoretical and more for big agencies. How you make change is important. Sure. Why and what size matters, of course.

i love networking

Deb Lewis does marketing at CityEvents. She sat beside Mary Bratko, Wedding Girl and Charles Moffat from Lilith Gallery. Below i'm talking to Adam Green from Google Canada who is proving to be very hard to connect with now, afterwards…

Below, the red haired woman's name is Liza Chalaidopoulos – Isaacs.  Not sure if i got that right. She gave me her card . still took me three minutes to type her name.

Then it was time to sit down and listen

We heard four futurists prognosticate
in a loose debate
about the fate
of marketing in the future.

Rob Campbell was there; he wrote a story for Toronto Guardian which was super OCDetailed but carries the misleading title Technologists Predict the Future of Marketing. Umm FAIL. They're not, and they didn't.
The seminar was fun
and cheered up everyone
but more so the drinks we had
when the talking was done
Amazing wine.  Seriously this shit is great.

OMG What do you mean only one drink ticket?

Whose in charge?

If you really wanna know what happened you can read Shanny's post about marketing her matchmaking in the future.
Or Karen Nussbaum from Storia PR's post remembering the insights and ideas on new techs for marketing that she saw or was made awre of at ths AMA Toronto event.

Seeing everyone again and learning about what they're all doing is inspirational, but the tech-talk kinda discouraged some of us; After hearing how hard is to get adopters, Shanny decided once and for all not to make a mobile app for her matchmaking business.  Karen just wants to work for a big agency now.
Save
Save
Save